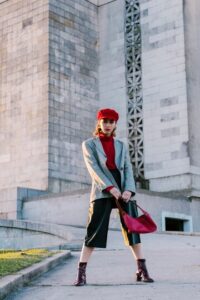 A Minaudière bag is a metal bag that comes in square or oval shapes and is mainly used to carry cosmetics. Not only cosmetics, but compartments of the bags allow different essential things like lipstick, watches, reading glasses or keys, etc. Make-up enthusiasts strongly recommend this bag which can keep all their stuff in one place and provide an aesthetic look that defines the Minaudière bag meaning. It's a small evening bag with rich decorative material.

minaudiere clutch bag:
These classy and sassy bags are small and hand-held. Due to its precise shape and size, very easy to carry. These features make it popular among youngsters and mature moms. Clutch bags are trending these days. These clutch purses speak the minaudière bag definition.
Difference between a handbag and a clutch bag:
The primary difference between handbags and clutch bags is that handbags are purses that cannot be separated and are more significant. You can only carry handbags with effort as compared to clutch bags. Clutch bags or purses have detachable straps and are perfect for carrying something of great value and minimal size. While A handbag contains your mini-portable world instead of that, a clutch bag contains your bare minimum essentials.
Minaudière clutch
Minaudière bag is also a type of purse. You can easily differentiate this purse from other clutch bags. Women's wristlet purses have a distinct feature that makes them unique. An attached wrist loop makes it easy to carry. 4.5 x 6.5 purse size is now popular among young ladies. How big is a 4.5 x 6.5 purse? A purse that can easily transport your daily necessary things and easy to handle the bag, both qualities are the reason for the wristlet purse's popularity.
Handheld Bag:
These desirable handheld bags can attract young people's eyes because of their precise size and shape. These fancy small purses can be styled with any outfit and are easy to carry.
Pochette Bag: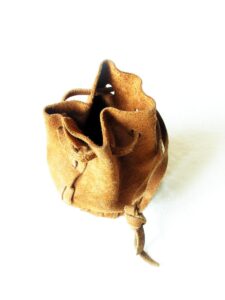 This french word "pochette" means envelope or pouch. These bags are like envelopes. These bags are also known as envelope wristlet clutches. Pochette bags are great handbags to carry. These bags come with straps and without straps. Louis Vuitton's small wristlet bags are widely popular and frequently used by fashion bloggers and influencers.
Boston Bag:
What is a Boston bag? Boston bags are barrel-shaped leather bags more extensive than other clutch bags. While traveling, Boston bags are used as they are designed to hold many items together with the help of many compartments. Two strong handles make it easier to carry on the shoulder. These bags are oblong at the bottom and are held together by two handles.
Bucket Bag:
Bucket bags are loved all over the world based on their individual and unique look. It has a feature that makes it cling to the body. Because of this feature, this bag is the first choice of women worldwide. Some bags, like Hozen's mini bucket bag, come with an adjustable strap that can be adjusted for size, which helps you stick with it, making this bag your best companion. It is a medium-sized bag. Which is very suitable for your daily travel use. You can use it for a picnic if you want. Its shape is also such that its wide brim can hold many items. Then it's your choice. Use it as a beach bag or a crossbody bag if you want.
There is a desire for a woman worldwide that she must have these types of clutch bags. These bags are undoubtedly the best fashion accessory and are also great in appearance, which adds to the luxury.
What are the advantages of clutch purses?
Unique style:
These small clutch purses have their value and are are unique in style. Provide compactness and comfort at the same time.  
Pair it fashionably: 
Clutch purses can be easily paired with various outfits, from sarees to jeans. These purses retain their individuality in every business, which gives innovation to your fashion, which is not in any other. These clutch purses are available in various attractive colors like black, brown, blue, and green, and you can match them with your outfit.
Essentials on the go: 
Your daily essentials, like a watch, lipstick, nail polish, cards, cash, reading glasses, keys, phone, etc., can be easily carried in these small purses.
Convenient to carry:
A clutch purse has made a person's life more convenient as it is the easiest to carry and handle, be it at a party or an office meeting.
What features should your clutch bag have?
Long-lasting

Durable

Affordable

Vegan

Trendy

Functional

Compact