Regarding outdoor gadgets, one of the essential items to have is a reliable backpack. A waterproof roll-top backpack is a must-have for those who enjoy hiking, camping, or other outdoor activities. And one brand that has gained a reputation for producing top-quality bags is Patagonia's waterproof roll-top backpack.
Patagonia is a California-based company that was founded in 1973 by Yvon Chouinard. Initially focused on producing rock-climbing gear, the company has since expanded to include various outdoor apparel and large or small loads of accessories, including backpacks.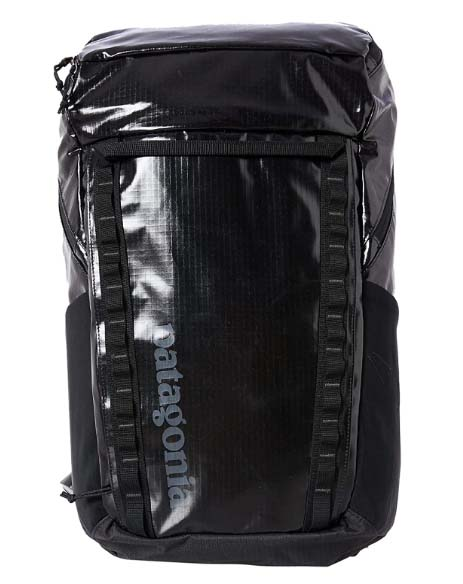 The Black Hole Roll Top Backpack:
One of Patagonia's most popular backpacks is the Black Hole Roll Top. This backpack is waterproof and durable, making it ideal for use in various outdoor settings. The backpack is rugged polyester fabric coated with a TPU-film laminate and a DWR (durable water-repellent) finish, which helps keep water out and protect the backpack's contents.
The Patagonia Travel Pack is a backpack for travel and outdoor activities. It is part of Patagonia's Black Hole line of bags, known for their durability and water-resistant features.
This Travel Pack is made of a rugged, weather-resistant 900-denier polyester ripstop fabric. This material withstands travel rigours and protects your items from rain and other moisture.
The backpack features a spacious main compartment with a clamshell opening for easy access to your necessities. It also has a padded laptop sleeve that can hold most 15″ laptops and several other pockets and compartments for organizing your belongings.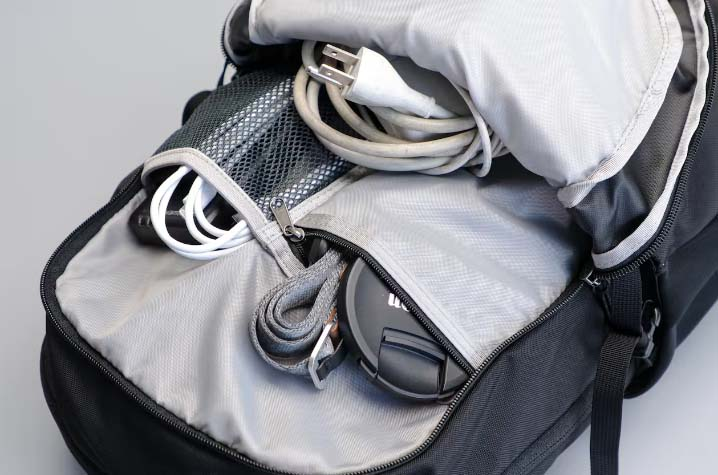 It also has multiple lash points and a daisy chain for attaching extra things or accessories. The Patagonia Travel Pack is a versatile and durable backpack ideal for women for travel, outdoor activities, and everyday use with multiple pockets that securely carry large gadgets like water bottle pockets.
The Stormfront Roll Top Pack is a specific model of the roll-top backpack. Patagonia owns this backpack which is famous for outdoor clothes and gadgets. This backpack provides security to your necessities and suits wet and harsh environments, such as fishing or water sports.
The Stormfront Roll Top Pack is made from 100% waterproof material and features a roll-top closure with a buckle for a secure seal against water and moisture. The pack also has a front pocket with a water-resistant zipper and side pockets for storing water bottles or other small items.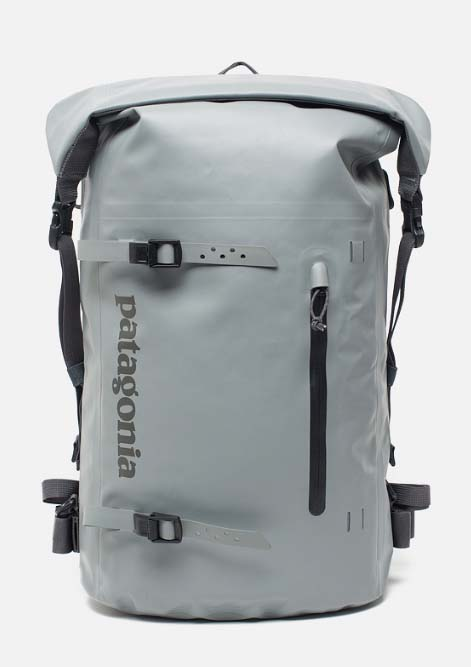 The shoulder straps and back panel of the Stormfront Roll Top Pack are padded and breathable for comfort during extended use.
Overall, the Stormfront Roll Top Pack is a durable and waterproof backpack for use in challenging outdoor conditions. It is the best for outdoor activities that require a waterproof bag.
The Patagonia Roll Top Backpack features a roll-top closure, allowing you to adjust the backpack size to accommodate different amounts of large or small loads of gear. The backpack also has a front zippered pocket and an internal sleeve that can hold a hydration reservoir or a laptop up to 15 inches in size. The backpack's padded shoulder straps and back panel provide comfort and support during extended wear. Some models come with pockets on shoulder straps.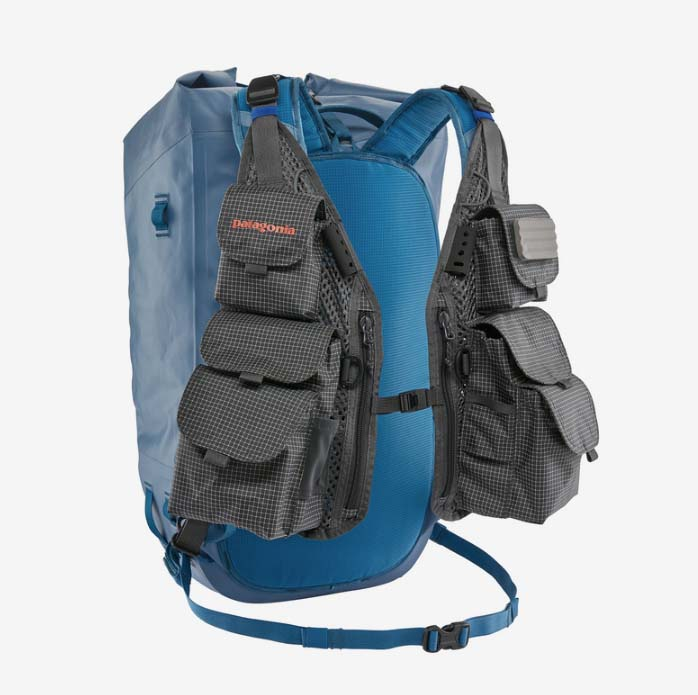 Patagonia offers various waterproof bags for different activities and environments. For example, the Stormfront Roll Top Pack is a fully waterproof backpack specifically for fishing and boating. The Lightweight Pack is a smaller backpack for day trips and light hiking.
The backpack comes in two sizes, 32L and 45L. The 32L version measures 21″ x 13″ x 10″ and weighs 2 lbs 10 oz, while the 45L version measures 26″ x 13″ x 11″ and weighs 3 lbs 1 oz.
The backpack has a zippered side pocket for quick access to small items in size and a front stash pocket with a zippered mesh pocket and key clip.
The backpack has padded shoulder straps and a sternum strap to distribute weight evenly and reduce pressure on your shoulders. The padded back panel provides comfort, ideal for women and ventilation during extended wear.
Patagonia is known for its commitment to sustainability, and the Black Hole Travel Pack is made from recycled materials. The backpack also has a bluesign® approved fabric tag, which means it has been produced in an environmentally responsible way.
Patagonia offers a lifetime warranty for all its products, including the Black Hole Travel Pack. If your backpack has any defects in materials or craft, you can return it for repair, replacement, or a refund.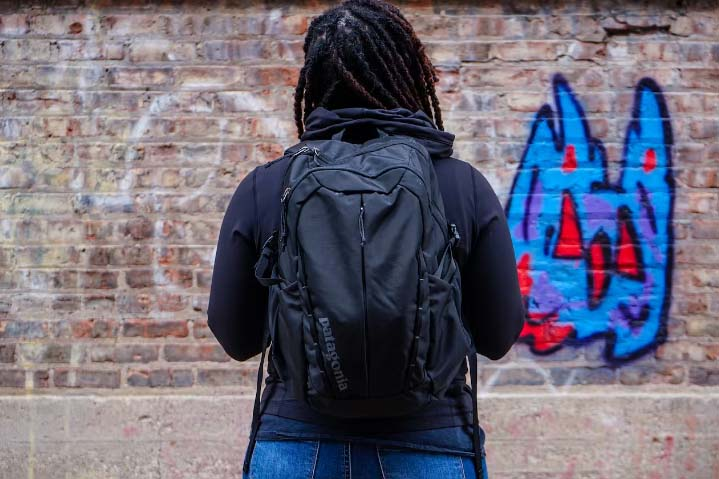 Overall, the Patagonia Travel Pack is a high-quality backpack built to meet the needs of travellers and outdoor enthusiasts. Its durable and weather-resistant materials, spacious compartments, and comfortable straps make it an excellent choice for various activities.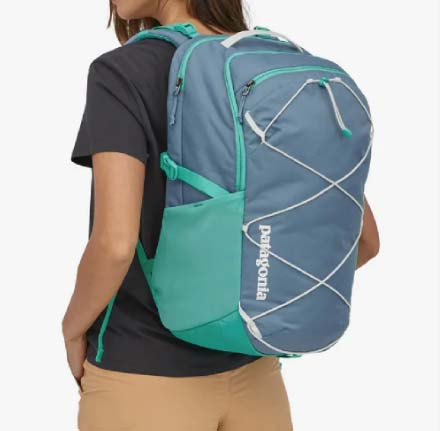 Patagonia is a brand that outdoor enthusiasts trust to provide them with high-quality, durable, and waterproof backpacks that can withstand the rigours of the outdoors. Whether hiking, camping, fishing, or just exploring a Patagonia waterproof roll-top backpack is essential to help you stay organized, comfortable, and prepared for whatever adventures come your way.
Are waterproof backpacks worth it?
Whether or not waterproof backpacks are worth it depends on your specific needs and intended use. A waterproof bag is essential for keeping your things dry and protected if you frequently participate in water-based activities such as kayaking, canoeing, or rafting. Similarly, a waterproof backpack can be an excellent investment for protecting your belongings if you live in an area with frequent rain or snow.
However, a waterproof bag may be optional if you primarily use your backpack for everyday commuting or light travel. While water-resistant materials can provide some protection against light rain and splashes, they are only partially waterproof and may not be sufficient for extended exposure to moisture.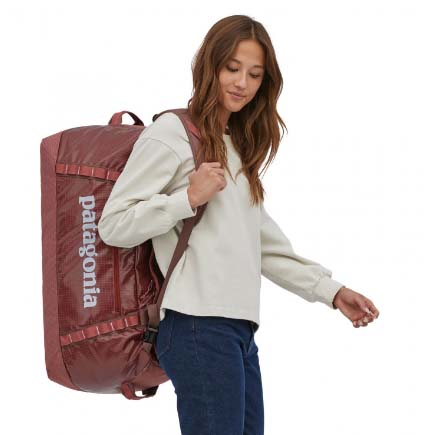 Is the Patagonia Black Hole bag waterproof?
The Patagonia Black Hole bag is water-resistant but not completely waterproof. The bag is made of durable, weather-resistant material that withstands light rain and splashes. Still, it is not designed to be submerged in water or exposed to heavy rain for extended periods. Patagonia offers some bags with waterproofing capabilities, such as the Black Hole Stormfront pack, made with a completely waterproof material and features perfect waterproof zippers and seams. If you need an entirely waterproof bag, looking for a backpack specifically designed for that purpose is best.
Can you get a waterproof backpack?
Yes, you can get a waterproof backpack. Many backpacks on the market are designed specifically to be waterproof, meaning they are constructed from materials that prevent water from entering the bag, even when fully submerged. These backpacks are ideal for kayaking, rafting, or hiking in extremely wet conditions.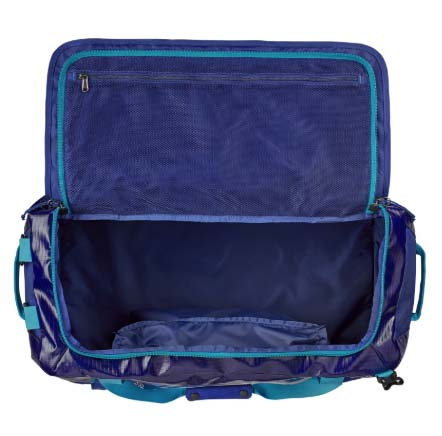 Waterproof backpacks are typically made from materials such as PVC or polyurethane-coated nylon that are entirely waterproof and highly durable. They often feature welded seams and waterproof zippers to ensure no water can enter the bag. Some waterproof backpacks also have additional features, such as roll-top closures or air valves, to compress the bag's contents and make it more streamlined.
When looking for a waterproof backpack, it's essential to consider the intended use and choose a bag that has the appropriate features for your needs. It's also important to check the waterproof rating of the bag to ensure that it will meet your requirements. Overall, a waterproof backpack can be an excellent investment for anyone who spends time in wet environments or wants to protect their belongings from water damage.
Are Patagonia backpacks worthwhile?
Patagonia backpacks are well-regarded for their high quality, durability, and sustainability. They are made from high-quality materials designed to last, and many Patagonia backpacks feature recycled and environmentally friendly materials.
In addition to their durability and sustainability, Patagonia backpacks are designed with functionality. Many of their packs are specifically for outdoor activities such as hiking, camping, and climbing and specialized feature pockets, straps, and other features to make outdoor activities more comfortable and convenient.
While Patagonia backpacks can be more expensive than other brands, many consider them worthwhile investments because of their quality, durability, and eco-friendliness. Additionally, Patagonia is a certified B Corp and donates a portion of its profits to environmental causes, which can make purchasing a Patagonia backpack feel like a more socially responsible choice.
Conclusion:
A Patagonia backpack may be a great choice if you are looking for a high-quality, durable, and sustainable backpack designed specifically for outdoor activities.
Patagonia is a company that has made a solid commitment to sustainability and fair labour practices. While not all their products are Fair Trade Certified, many backpacks fall under this certification.
The Fair Trade Certification ensures that the product meets social, environmental, and economic standards. This includes fair labour practices, safe working conditions, and fair worker wages.
Patagonia is committed to sustainability and ethical sourcing, and they work closely with suppliers and manufacturers to ensure that their products are fair trade responsible. They also have the Patagonia Grant Program, which supports grassroots environmental organizations worldwide.
So, while not all of their backpacks are Fair Trade Certified, Patagonia has a solid commitment to sustainability and ethical practices, and many of them meet Fair Trade standards.