Before searching for the type of backpack, we must know how many classes are. These types of bags can be classified by their uses, like school backpacks, military backpacks, hiking backpacks, travel backpacks, etc. The backpack size material or cost will also vary when the purpose changes. Below we'll discuss how many types of bags are and their usage:
Sizing of backpack:
The first essential thing to consider is sizing while discussing backpacks. Backpack carry capacity does matter. It affects its bulk and weight. Most larger packs have their internal structural frames.
How much can you fit in a backpack?
Backpack capacity is measured in Liters. Sometimes, we need an idea of our gear in terms of volume.
Backpack small (S) less than 20 Liters. (Everyday carry, tech carry, day travel) for a small laptop, some books, an umbrella, cords cables, keys, a tablet, a wallet, or glasses.
Medium (M) 20-35 Liters. (Ideal for gym, school, and carry-on luggage) can easily load a

Laptop, extra shoes, clothes, an umbrella, cords, cables, keys, a jacket or sweater, a book, keys, a water bottle, or snacks.
Large (L) 40-80 Liters. (Hiking, backpacking, travel carry-on) 2-3 spare sets of clothes. A jacket, toiletries, umbrella, cords, cables, a larger laptop, snacks, books, keys, wallet, etc.
Extra Large (XL) 80 + Liters. (Ideal for hiking, backpacking, and long trips) A jacket or sweater, multiple water bottles, snacks, large cables and cords, 3-4 sets of spare clothes, hiking gear and equipment, towel, etc
Type of backpack:
Only capacity does not determine the best use of a backpack. Construction, design or material, and other aspects effects as well. Here we'll define the different types of bags and their best usage.
Everyday backpack:
It's a simple backpack with one main compartment. The primary purpose is to carry laptops or daily usage items. , no ventilated panels or padded straps are installed in these backpacks.
Convertible Backpack:
It is just a tote bag with shoulder straps. This type of backpack is ideal for running projects and can be either a backpack or a regular shopping bag. These bags often come with pockets outside and one pocket inner side with a capacity of 15-35 Liters. These bags are very light in weight and can be foldable easily for subsequent use.
Daypack:
It's a typical backpack design. This type of backpack may not have zipper closures, compartments, or any internal organization. Maximum capacity is 20-40 Liters and is often quite fashionable. Daypack bags are relatively easy to find. They come in different colors and materials, are comfortable, and improve your personality.
Mini Backpack:
This backpack is tiny and cute. The mini type of backpack is also called the journeys mini backpack or Macy's mini backpack. Its capacity is 1 liter, and you cannot carry more than 5 liters. You can hold a smartphone, headphones, a wallet, or maybe a book only.
Drawstring Backpack:
These light backpacks might have a single zipper pocket on the front and look like a pouch with a drawstring that acts as shoulder straps. These backpacks can hold only 5-10 L but are pretty uncomfortable when getting heavy because the drawstring can cut your shoulders. However suitable for running errands and for taking extra clothes to the gym.
School backpack:
These backpacks are for school-going students to carry books. School backpacks have many sizes, and students from elementary to high school can use them according to their requirements. School backpacks further have many types:
Classic backpack:
These backpacks usually have two compartments. The first one is more prominent, and the second is smaller—usually, a small pocket to organize small gadgets like pencils, sharpeners, erasers, etc. Due to the common usage of minimalist school backpacks, many companies are making and selling them.
Laptop backpack:
In the past twenty years, laptop usage has increased in our daily life. A strong and safe backpack for your laptop is necessary to carry the laptop to school or anywhere. Laptop backpacks have different compartments to hold small things like paper, file covers or chargers,s, etc. A laptop backpack is also suitable for the business traveler because of its unique sleeve to hold & protect the laptop.
Tote backpack:
Tote backpack is the perfect solution to carry the necessary thing in our busy lifestyle. These backpacks are rectangular and expandable, with many compartments to manage things. Most backpacks have two handles to hold, so they are readily convertible to handbags.
Rolling backpack:
This type of backpack is suitable for students with many books to carry. Rolling bags have not only wheels but also shoulder straps. You can use them as a regular backpack with lots of pockets.
If you are uncomfortable wearing the backpack, a rolling backpack system is available to rest your back.
Satchel backpack:
They are often made of leather to protect things from rain or water. It has a large flap to cover the whole bag from the top to protect the items inside. Satchel backpacks are suitable for all ages, students, and genders.
Clear school backpack:
From a security point of view, a clear school backpack is the best option for students and schools to supervise belonging and reduce the potentially harmful stuff students bring. Clear plastic is used to make these bags; everything inside the backpack can be seen without opening the pack.
Sling school backpack:
Sling school backpack has a single strap. It is up to you; you can wear the bag across your back or just in front of your body. This type of backpack is handier than a regular backpack. These backpacks come in different sizes, and as compared to traditional packs, sling backpacks have less space. But are more practical in managing the more minor things than others.
Sports backpacks: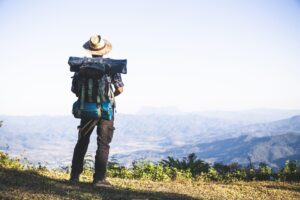 Sports backpacks are designed to keep adventure in mind. The rugged and lightweight material gives these backpacks many organizational features and facilities to handle your things. This type of backpack can be the best source of branding, which could be a specific team or a company.
Backpacks for Hiking:
Frameless backpack:
Professional hikers carry many gears with them. The frameless backpack may be the best option for some hikers due to its lighter weight and comfort for the back. Hikers can easily carry the load. Hikers, also called frameless backpacks, backpacks with lots of storage.
Internal-frame backpack:
This type of backpack article is ideal for the human body. A space between the frame and the back of the human can offer ventilation between the body and backpack to keep cool the shoulder comfortable. Although internal-frame packs have more handling capacity the load than frameless backpacks, they are a bit more expensive than frameless backpacks.
Hydration backpack:
The primary purpose of a hydration backpack is to provide an extra feature of a water reservoir. You can save two large sizes of bottle space and the risk of water leakage too.
You can choose your hydration pack capacity according to your need. For those who do regular exercise is worthwhile to own hydration backpacks.
Waterproof backpack:
During hiking, weather conditions can be changed into rainy or wet. To keep your items dry and waterproof, this type of backpack is a blessing if you have one. The waterproof material is strong enough and is suitable for outdoor adventure, especially near the river.
Small hiking backpack:
An excellent choice for a shorter hiking trip is a small hiking backpack. You can use a lighter-weight small hiking backpack that can easily carry 10 pounds of gear without a frame. These small hiking backpacks are simple in design and lower in price than large backpacks and are easy to use too.
Camera backpack:

To hold expensive, fragile camera equipment, backpacks are sturdy, padded, and have internal and external pockets.
If you love to take photos, you must safely have all the necessary gear for the camera. Camera bags are mandatory for you.
This type of backpack makes your hands accessible without carrying your bag all the time with you. Many camera-backpack have an anti-theft feature with hidden zipper pulls. This camera backpack has a 20-30 L to 50-60 L setup. You can choose according to your need and requirement.
Fishing backpack:
This type of backpack is made of waterproof material. It has a lot of pockets to organize the fishing gear. Some fishing backpacks come with rain covers to protect yourself from rain. It comes with a 20-30 L capacity usually. But you can find larger ones at 80L+.
Drone backpack:
Like camera backpacks, drones are designed to carry delicate & expensive equipment. These are padded inside and outside for shock resistance. These backpacks come with about 20-30 L capacity or 50-60 L capacity for multi-drone setups.
Travel backpack: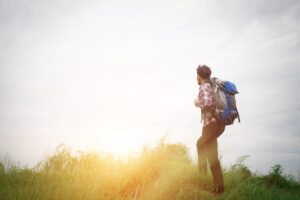 This type of backpack is designed for travelers' necessities. And keep airport travel in mind. They leave your hands free while you are walking in the airport. Due to its soft-sided and flexibility are easier to staw under the seat or an overhead compartment.
Carry-on backpack:
A carry-on backpack usually has one or two compartments. It's the best backpack type with many pockets to organize things. These bags are less tall than 22 inches with a capacity range of 20-40 Liters.
Military Backpacks Types:
Expandable tactical backpacks:
Some military backpacks can expand the bag size when the luggage is more. If you have less baggage, you can quickly compress its size according to your gear.
Small tactical rucksack:
For outdoor activities, the small tactical rucksack is the best option for your necessary stuff. During hunting small size of the bag provide you ease in moving forward.
Tactical sling backpack:
Sometimes essential tactical backpacks are too large for activity. At that time tactical sling backpack is more suitable for you. These bags are wholly settled on your body and will not affect you while running or walking.
ALICE field pack:
The most suitable backpack is the ALICE field pack for your all-purpose adventure. That represents all-purpose lightweight individual carrying equipment which was adopted US army. Many people can use the ALICE field pack due to its military pack features, massive capacity, and durability.
Duffel backpack:
A duffle backpack is just like a duffle bag. The only difference that makes it a pack is the additional straps that let you wear it like a backpack. Duffel backpacks are large and typically made of leather or canvas. They are sturdy and robust and can last for many years.
Originally, duffel backpacks were used by the military but are now famous for outdoor adventures and travels.
They come in various sizes, 30-120 L, and more. It makes them an excellent choice for travel and other activities. These backpacks are straightforward to carry for a simple design. Not suitable for active travel like backpacking or hiking.