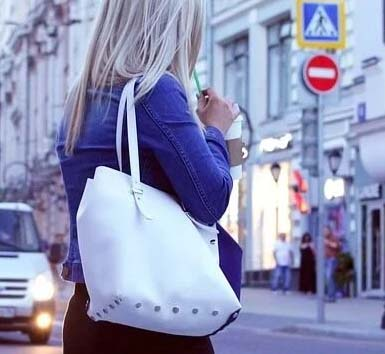 Handbags are not just accessories; they are essential items that women use to carry daily essentials. From wallets, keys, and smartphones to makeup, snacks, and water bottles, a handbag must be spacious enough to accommodate everything a woman needs. But carrying a bulky tote or an oversized shoulder bag can be inconvenient and uncomfortable, especially if you are on the go. That's where medium-sized handbags come in.
Women's Medium-Sized Handbags:
Medium-sized handbags are perfect for women who want a balance of style and functionality. They are not too small to carry the essentials, nor too big to feel heavy. Instead, they offer the right space to carry your daily necessities while keeping you organized and stylish. Here are some reasons why you should consider investing in a medium-sized handbag.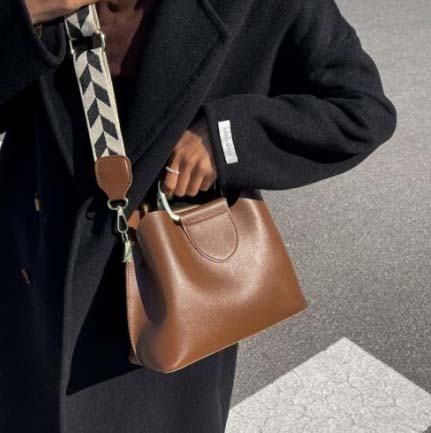 Versatility:

Medium-sized handbags come in various styles, colors, and materials, making them versatile enough to match any outfit or occasion. Whether you prefer a classic leather tote, a trendy crossbody, or a chic shoulder bag, a medium-sized handbag suits your taste and needs. Depending on the occasion, you can dress it up or down and switch it up as often as you like.

Comfort:

Carrying a handbag that is too heavy or too big can cause back, shoulder, and neck pain, not to mention inconvenience and fatigue. With a medium-sized handbag, you can distribute the weight evenly and comfortably, allowing you to move around freely without feeling weighed down. You can also choose a handbag with adjustable straps or handles to fit your body type and preferences.

Organization:

A medium-sized handbag usually comes with multiple compartments, pockets, and zippers, allowing you to organize your essentials and find them quickly when needed. You can separate your makeup from your snacks, your phone from your keys, and your wallet from your sunglasses, ensuring that everything has its place and is easy to access.

Sustainability:

Medium-sized handbags are more sustainable and eco-friendly than disposable plastic bags or fast-fashion accessories. They are made of high-quality materials that are durable and long-lasting, reducing the need for frequent replacements. They also come from ethical and responsible brands prioritizing fair labor practices, environmental conservation, and social responsibility.
Women's medium-sized handbags are a stylish and practical alternative to bulky and oversized bags. They offer versatility, comfort, organization, and sustainability, making them a must-have item for any woman's wardrobe. Whether you are a student, a professional, or a busy mom, a medium-sized handbag is the perfect companion for your daily adventures.
Hobo: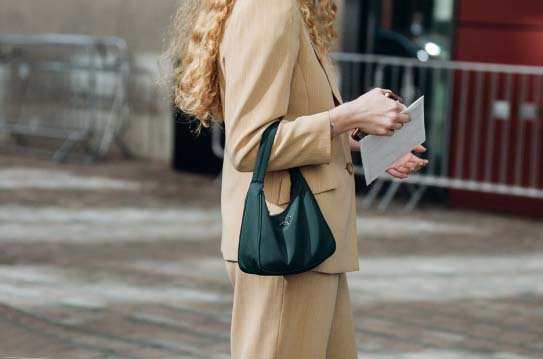 Hobo is a handbag style characterized by its crescent shape, slouchy silhouette, and soft, unstructured design. The name "hobo" derives from the stereotype of homeless people who carry their belongings in sacks or bindles on a stick, resembling the shape of a crescent moon. However, these handbags are far from shapeless or shabby; they are trendy, fashionable, and versatile.
Hobo handbags come in various sizes, materials, and colors and are suitable for any occasion, from casual outings to formal events. They are usually made of leather, suede, or fabric and feature a single strap or handle that can be worn over the shoulder or cross-body. Some bags have additional pockets, zippers, or closures, while others have a minimalistic design with no hardware or embellishments.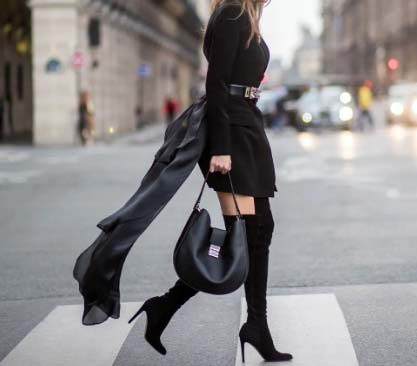 Hobo bags are popular among women who value comfort, functionality, and style. They offer plenty of space to carry everyday essentials, such as a wallet, phone, keys, makeup, and even a tablet or a book. The slouchy shape allows for easy access and retrieval of items, while the soft texture and flexibility make them comfortable to wear and carry for extended periods.
Hobo bags are versatile and can be dressed up or down, depending on the occasion. They look great with jeans and a casual t-shirt or a dress and heels for a more formal outfit. They also come in various colors, from classic neutrals like black, brown, and beige to bold shades like red, blue, and green, allowing you to express your personality and style.
Whether running errands, traveling, or attending a special event, a hobo bag can be your go-to bag for carrying your essentials while adding a touch of elegance to your outfit.
Wallets: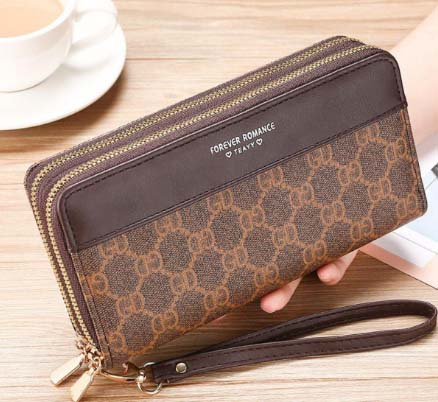 Women's wallets come in various styles, sizes, materials, and colors. Some popular types of women's wallets include:
Bifold Wallets:

These wallets are made of leather or other materials and fold in half. They usually have card slots, a few compartments for cash, and a clear ID window.

Trifold Wallets:

Similar to bifold wallets, trifold wallets fold into three parts and have more compartments for cards and cash.

Zip-Around Wallets:

These wallets zip around three sides and have multiple compartments for cards, cash, and coins.

Clutch Wallets:

These wallets are larger and often have a detachable strap to be used as a clutch or a shoulder bag. They usually have more compartments and are designed to hold a phone, other essentials, and cards and cash.

Wristlet Wallets:

These wallets have a wrist strap for easy carrying and are often smaller than clutch wallets. They are designed to hold just the essentials, like a phone, cards, and cash.
When choosing a women's wallet, consider the size and style you prefer, the materials used, and the number of compartments and card slots it offers.
Conclusion:
Women's wallets come in various styles, sizes, materials, and colors to suit different preferences and needs. Some popular women's wallets include bifold, trifold, zip-around, clutch, and wristlet wallets. When choosing a women's wallet, it's important to consider factors like the size and style, the materials used, and the number of compartments and card slots it offers. With so many options, women can choose a wallet that fits their style and functional needs. Similarly, women's bags come in various styles, materials, and sizes, from tote and shoulder bags to crossbody bags and backpacks. Ultimately, the choice of a wallet or bag comes down to personal preference and the user's specific needs.