The Most Practical Bowling Bag for You
Bowling bag:
If you're a bowling fan who enjoys playing with friends at the local bowling alley with your bowling shoes and homemade balls, you won't need to buy a bowling bag at all.
Usually, bowler bags are carried by hand, although often the shoulder strap is removed for cross-body wear. It is a modern and comfortable bag with rounded shapes. This bag will allow you to easily carry all the small things of your sports activity.
What is a bowling bag?
Bowling bags are large in size, made of fabric, and usually designed to house bowling necessary tools and equipment that bowler keeps with them while playing they may need.  
These bags are often large and behave like the kit bags used by footballers and cricketers. Not all bowling experts use bowling bags because they are not the most essential item.
Leather Retro Bowling Bags:
These bags were popular in the 20th century. These bags were made of leather same briefcase shape and were capable of housing a bowling ball and a pair of shoes only. Those bags used to come in different colors with two handles and zippers to keep the thing safe.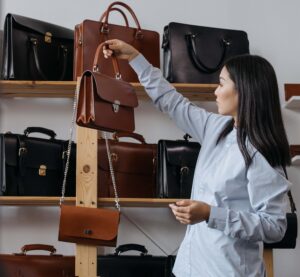 Nylon Bowling Bags:
Nylon bowling bags are very common nowadays and are made up of synthetic fiber and nylon which are cheaper than leather. These bags have more space than leather bowling bags. In today's market, there are a large variety & lot of design of nylon bowling bags available in the market. You can get it according to your choice of color and preference. 
Bucket bags:
These bags are highly trendy among women. A bucket bag usually has a type of closure by drawstring or stud. There are a lot of colors & designs available in the market.
Bowling Bags on Wheels:
There are bowling bags available on wheels for those who have to go overseas to tournaments and need more space. These bags can be treated as suitcases as well due to the heavy load capacity bags are equipped with wheels. These bags are larger in space.
The thing to be considered before buying Bowling bags: 
Before purchasing bowling bags it is necessary to consider some necessary steps. Here are some essential things to consider:
Design: 
You must have a theme or a particular design if you are in heading into the professional circuit. 
Size: 
There are different sizes of bowling bags on the market like single bowling balls, double bowling balls, and triple bowling balls requirements. You can purchase according to your requirements. 
Price:
A major point is the price of bowling bags. If you are a new professional and you don't have enough amount to purchase the bowling ball bag, you need to see the price according to your need. There are different bags with different prices in the market.
How big the bowling bag is?
Now we have to research here what type of bag is your requirement. If you go for a retro bowling bag then you must know that it does not have much space. Only you can place a single bowling ball and hardly a pair of shoes. But if you need to carry more items so you have to purchase larger bowling ball bags on wheels.
What is the purpose of a bowling bag?
To store and carry the bowling equipment, we primarily use a bowling bag. We may include more relevant items like shoes, bowling balls, water bottles, towels, polish, etc.
Why do bowlers use rosin bags?
Do I need a bowling rosin bag? What is a rosin bag used for in bowling? The answer is simple, If you think you are experiencing clammy hands dry rosing bags are absolutely for you. A chalky rosing bag or hand conditioner is used if you have dry hands.
What bowling ball material is best?
Here is a common question that arises in mind, what is the best bowling ball bag? Reactive balls are the most popular bowling balls which are made from a grippy resin for modern play today, but not durable as plastic or urethane balls are. Reactive balls have the ability for playing a great hook potential, more friction, and pin action when thrown.